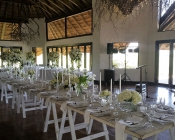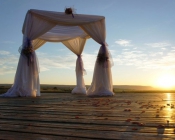 ACACIA
Perched on a hill top in the reserve the Acacia venue is situated alongside a watering hole with magnificent views over the Tala Valley. Owing to this venue being a stand-alone feature, privacy is part of the unique package that this venue has to offer with no outside interruptions or distractions from the public. The Acacia venue seats up to 100 guests and is a lovely sized venue for a wedding or conference.
The predominant features at Acacia are the tall glass concertina doors that surround this open-plan structure and open out onto a great wooden deck that stretches out towards the watering hole. The wooden deck is an ideal and a very popular option for outdoor wedding ceremonies, especially in the late afternoon with the sun setting in the distance behind the rolling hills. It is also this time of day that animals such as Zebra, Waterbuck, Wildebeest, Rhino, Buffalo to name a few, come down to the watering hole to drink, allowing for exquisite photo opportunities. Inside the venue, the old Acacia trees are decorated with fairly lights acting as chandeliers making any wedding feel like a fairytale.
Acacia has a warm and rustic yet elegant feeling to it, making it perfect venue for that big day, function or presentation. Wonderful memories of your Special Day are made whilst sipping beverages from the fully stocked bar and enjoying the beauty of an African sunset from the Acacia deck, overlooking the majestic views across the Acacia dam.